About us

Please let us introduce ourselves as a suppliers of spare parts for Polish made marine machinery.
Our company was established in year 1998. It was founded by engineers previously engaged in marine business (shipyard and shipowner's technical purchasing). Europol Service is located in Szczecin, very close to the border between Poland and Germany. This is a very benefitical location, especially for the logistics.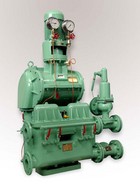 We have 15 years experience with successful spare parts deliveries.Our policy is to keep a quality/price ratio at the highest possible level. We are specialized in deliveries of genuine and OEM parts. Our knowledge, huge database as well as special discounts negotiated with the most of Polish makers of ship machinery allows us to offer for our customers very benefitical prices. Cooperation with Europol Service is an excellent oportunity to save the money while purchasing high quality products.